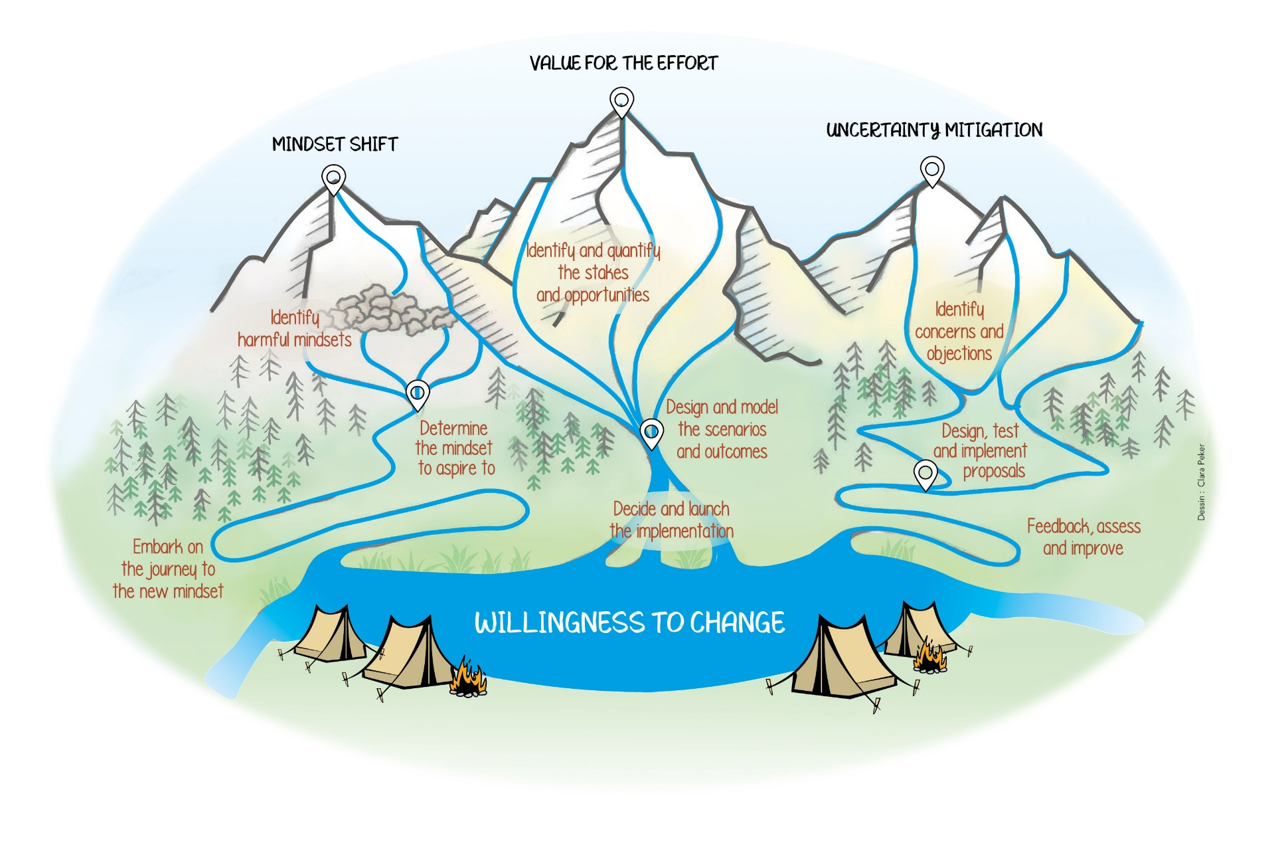 Just as water is to life, so is an organisation's capacity to change essential to its evolution and prosperity. Contrary to most management literature and consultants' positions, however, change is not always total nor an uphill battle. The change in organisations needs to be acquiesced to and understood by its stakeholders, in particular (but not limited to) the employees who have to make it happen.
Our Willingness To Change (WTC) program is built on the premise that a successful change program needs three ingredients: Mindset Shift, Value for the Effort, and Uncertainty Mitigation. WTC has been designed to enable organisations to instil into their personnel the capacity and willingness to change when that requirement emerges.
Mindset Shift
Any organisation of any nature (public, private, for profit, not for profit, …) has been shaped by a culture and a set of principles which have evolved over the course of its existence. The culture propagates a mindset within the organisation. This mindset is often so strong that a major change cannot be carried out without shifting some elements of it. Not everything has to change, however, for any organisation is endowed with strengths along with its weaknesses.
The challenge in this stream (Mindset Shift) is to identify these (often 1-3) harmful mindsets, determine the (new) mindsets the organisation wants to aspire to, and embark on the journey to the new mindset(s). Some of the mistakes organisations make during this phase are typically:
Focusing on a long list of observable outcomes rather than getting to the root causes and reasons of the harmful mindsets;
Consequently, coming up with an equally large set of actions and procedures, rather than two or three required mindset shifts; and finally
Replacing the journey of change with presentations and doctrines.
Our WTC program digs deep through a structured holistic approach, combining quantitative and qualitative methods to identify the two or three harmful mindsets, and focuses on a comprehensive multi-prong initiative to embark on the journey. We address the first and third of the mistakes cited above and hence naturally resolving the second point.
Value for the Effort
Any change takes effort on the part of executives, managers and employees. Effort takes time and as we often hear, time is money. So before embarking on any significant change program, an organisation better know what it is getting in return for the efforts and demonstrate the value the employees (and other stakeholders) will receive.
This stream is the classical business case evaluation of the change benefits: quantify and cluster the stakes and opportunities, develop scenarios and outcome models, and once a decision is made, launch the implementation. It should be noted that although sometimes the benefits are not necessarily financial, we have to be able to quantify the value in return for the effort.
There are the standard miscalculations in this type of work, such as an over-optimistic outlook, unrealistic timelines (often mis-labelled as ambitious or stretch objectives), unsupported or unclear claims. More importantly though, the essential steps of implicating the employees in designing the program and demonstrating value/getting their buy-in is often skipped.
Our WTC addresses this issue through the guided implication of teams in the stream accompanied by a straddled communication plan. In a short period those who built the value and the model and are themselves part of the stakeholders, present and discuss them with the primary stakeholders over a few weeks.
Uncertainty Mitigation
People are not systematically resistant to change, but a transformation often takes time and raises issues unforeseen during the planning phase.
As a well-known phrase says: "the devil is in the details", and programs cannot predict and pre-fabricate solutions to every issue. It is often these details that derail the change journey.
The third stream in our WTC program, Uncertainty Mitigation, addresses this issue head-on with an approach borrowed from Quality Management's Continuous Improvement.
Using multiple channels, the organisation collects ongoing concerns and objections, and clusters and combines them into issues and obstacles that need to be addressed via proposals which are then implemented. Finally, a feedback-assess-improve process ensures the issues and solutions remain relevant over time until the change has been fully adopted.
An organisation's capacity to change is essential to its sustainability. Our belief is that the change need not be total, nor an uphill battle. Leveraged with common sense and a positive outlook, organisations can combine small streams of individual aspirations to change, into a great river of collective transformation.